Since its opening, Woodrow Wilson High School has been one of the most modern, spacious, and up-to-date schools in the country. Nowadays it has thousands of students who are showing excellent results in Athletics and Academics. Young people and their parents are happy to be associated with Woodrow Wilson High School.
Our Mission – Woodrow Wilson High School
The Woodrow Wilson High School mission is to provide a learning environment, which addresses the academic and social needs of the learners in the community. The school community will work together to prepare learners to think critically and creatively, to be socially responsible, and to foster a positive attitude towards self and learning. We shall develop an empowered school community and promote a positive school climate that enhances racial and cultural awareness and sensitivity.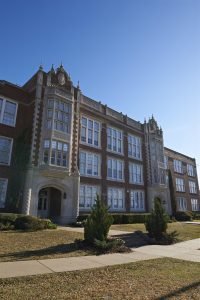 OBJECTIVES OF WOODROW WILSON HIGH SCHOOL




Develop the necessary skills to become life-long independent learners;
Develop a connection between school learning and career goals;
Develop an understanding of and respect for various cultures and their contributions to our community;
Promote integrity;
Provide opportunities to practice responsible citizenship;
Instill environmental responsibilities.
Woodrow Wilson High School is committed to producing future professionals and business leaders of America. So if you have any further questions please don't hesitate to ask us.
Why do you need to go to Woodrow Wilson High School
Statistics show that high school grades make more money than people who don't get a diploma. Besides for most jobs, you need this sheet of paper before they even let you enter the building. And Woodrow Wilson High School issues a diploma that can get you a solid, middle-class job.
But going to our high school is a lot more about the social experience. It's a breeding ground of growth that makes you a better person. You get experience from your interactions with people and learn a lot about them and yourself. Remember that being around all the great people who push themselves invites you to push yourself. You learn a lot about how to be a bright person in this world and get an infinite sense of possibilities. And it's no wonder that later people cherish those memories and want to meet old friends! By the way, if you want to share your high school experience, just click the button below.
Student Diversity at Woodrow Wilson High School
| | |
| --- | --- |
| 99.6% | Minority Enrollment |
| 0.4% | White |
| 67.6% | Hispanic |
| 29.7% | Black |
| 1.2% | Native Hawaiian/Pacific Islander |
| 0.9% | Asian |
| 0.2% | Two or More Races |